Do you dream of getting married in the Caribbean, but you are concerned with choosing a resort that, in addition to having beautiful wedding areas, also offers a complete structure for guests? Do not worry; Now Onyx Punta Cana will exceed all your expectations.
THE HOTEL
The rooms of Now Onyx combine a very tropical décor with all the comfort that you and each guest expect when staying at an all-inclusive resort: comfortable beds and a cozy atmosphere, a hot tub on the balcony of each room, in addition to many USB sockets and connectors so you can charge all your devices and cameras, so you can record and share every moment of this incredible trip!
All of the hotel's 822 rooms also have the basic items of a luxury hotel, such as an iron, a hairdryer, a security safe to store your belongings and a minibar with water, soft drinks, juice and Presidente beer that are stocked daily.
Presidente is a beer produced in the Dominican Republic and you can find it in all bars of the resort, in Pilsner and Light versions; the original Pilsner has a more striking flavor, while Light is lighter and more similar to the major beer brands that we have in Brazil. This is also the standard beer in the hotel's wedding packages.
Now Onyx operates in an Unlimited Luxury system – this name is a registered trademark of the chain, which is concerned with offering all guests an all-inclusive experience with high quality standards.
In late 2019, a new area of the hotel opened with over 320 suites, an area for teenagers with tables for foosball, pool, ping-pong and video games, a lazy river and a swimming pool with four slides. In total, six swimming pools guarantee fun for the whole family!
Aerial View - Now Onyx
Aerial View Now Onyx - Photo: Danilo Máximo
Principal Pool - Now Onyx
Junior Suite Swim Up Room - Now Onyx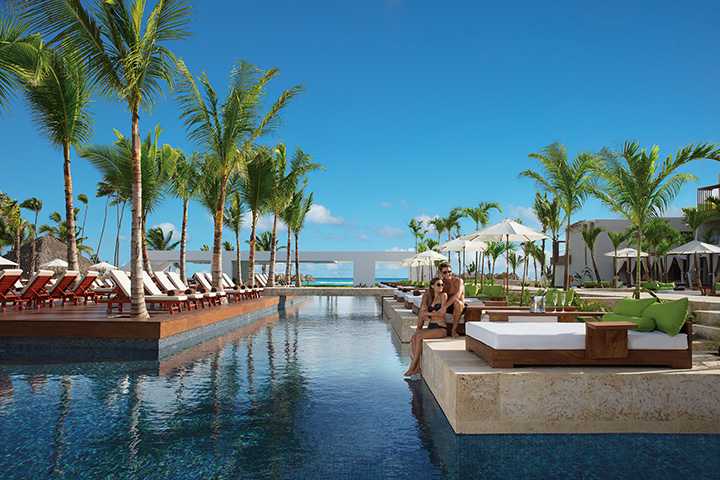 Preferred Club Pool - Now Onyx

GASTRONOMY
All bars in the hotel have premium drinks from internationally known brands and before entering each of the restaurants, the hostess welcomes you at the entrance and asks kindly if you have any allergies or food restrictions.
The hotel has six specialty restaurants open exclusively for dinner: an American steak house, we also have Mediterranean and Mexican cuisine, in addition to the traditional Italian, French and Asian restaurants, with emphasis on the Teppanyaki table.
It is worth noting that none of the restaurants requires reservations, only the Teppanyaki table – there are four tables for up to 12 people and a larger table, for up to 24 people. This is an option for mini weddings, where the group wants to be together at all times.
To complete the options, we have a very varied international buffet that is open for breakfast, lunch and dinner. There is also a cafeteria, a burger shop with snacks throughout the night, an ice cream shop, snacks on the beach and, of course, the entire 24-hour room service menu.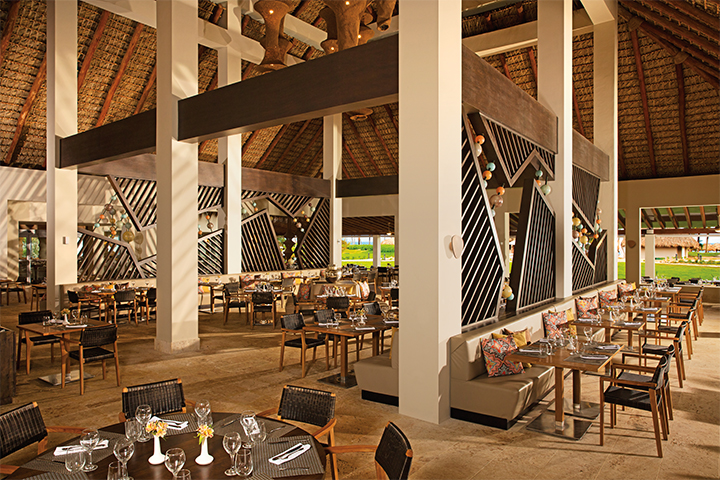 Restaurant Buffet - Now Onyx
French Restaurant - Now Onyx

THE HOTEL'S SPA
For those couples who like to maintain their care and exercise routine, even when getting married in Punta Cana, Now Onyx has a fully equipped 24-hour gym and a spa with various treatments, relaxing massages and a hydrotherapy circuit.
The spa also has a lounge area and a suite so that the bride can dress up with her bridesmaids for the big day. Services are offered at an additional cost and must be booked in advance, but do not worry! Cheers, as your wedding adviser assists with all reservations, for the bride and guests who want to schedule.

WEDDING AT NOW ONYX
Now Onyx Punta Cana offers the perfect setting for your wedding ceremony. For brides who are keen to have their toes in the sand at their destination wedding, the beach with its beautiful coconut trees and pale sand is the ideal choice, but if using high heels is more important, no problem! The hotel also has a beautiful gazebo for weddings, in a very private area, which is very beautiful and intimate for a mini wedding.
The hotel also performs civil wedding ceremonies, but as there is certain amount of bureaucracy involved, most couples prefer to have a civil wedding here in Brazil and, at the destination, the symbolic ceremony. Regardless of the type of wedding, Cheers will provide all assistance, within the advisory service.
Then, we can continue with the cocktail and the party on the beach or by one of the swimming pools – my favorite is the salt-water pool, which is very close to the beach and we can adapt the décor to the number of guests.

WEDDING PACKAGES
There are three main wedding packages for your luxury wedding at Now Onyx: a simpler one that includes only the ceremony for up to ten guests, while the intermediate and more complete packages cater for up to 25 people, including ceremony, cocktail and dinner, with the difference that the more complete package includes more items and amenities for the couple, in addition to having more options of dishes for dinner.
It is very important to mention two things. The first is that there is no problem if the wedding exceeds 10 or 25 guests; it is always possible to contract the service for additional guests! And the second is that packages include only a basic setting for the ceremony and party, and for any different furniture or lighting, flowers and attractions, you should request a quote and contract it separately.
At Cheers we have professionals dedicated to helping couples with choosing the package and décor best suited to their needs.

ADVANTAGES OF HAVING YOUR WEDDING AT NOW ONYX
Even though you may already be considering Now Onyx the perfect resort to be part of your wedding dream in Punta Cana, Cheers still has some more advantages for you…
The hotel has an area called the Preferred Club, a category of rooms with special amenities and services. This is a very nice option for couples, who deserve all the care and pampering in this very special moment, as well as for that guest who values more exclusive attendance and service.
Exclusive lobby and lounges, a reserved area on the beach, restricted access swimming pools and also a butler who will be on hand for whatever you need inside the resort.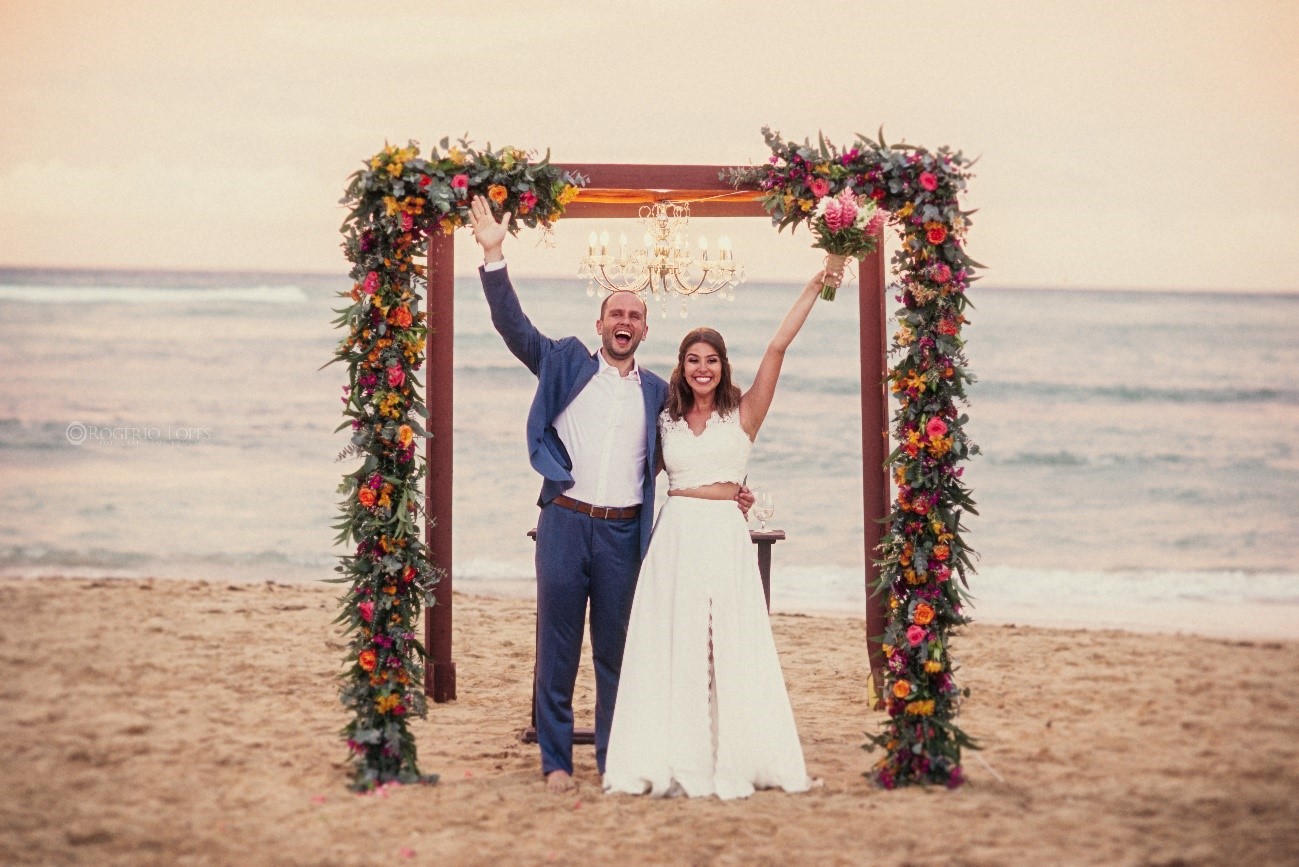 Cris e Pedro Wedding - Photo: Rogério Lopes
Cris e Pedro Wedding - Photo: Rogério Lopes
Juliana e Gustavo Wedding - Photo: Danilo Máximo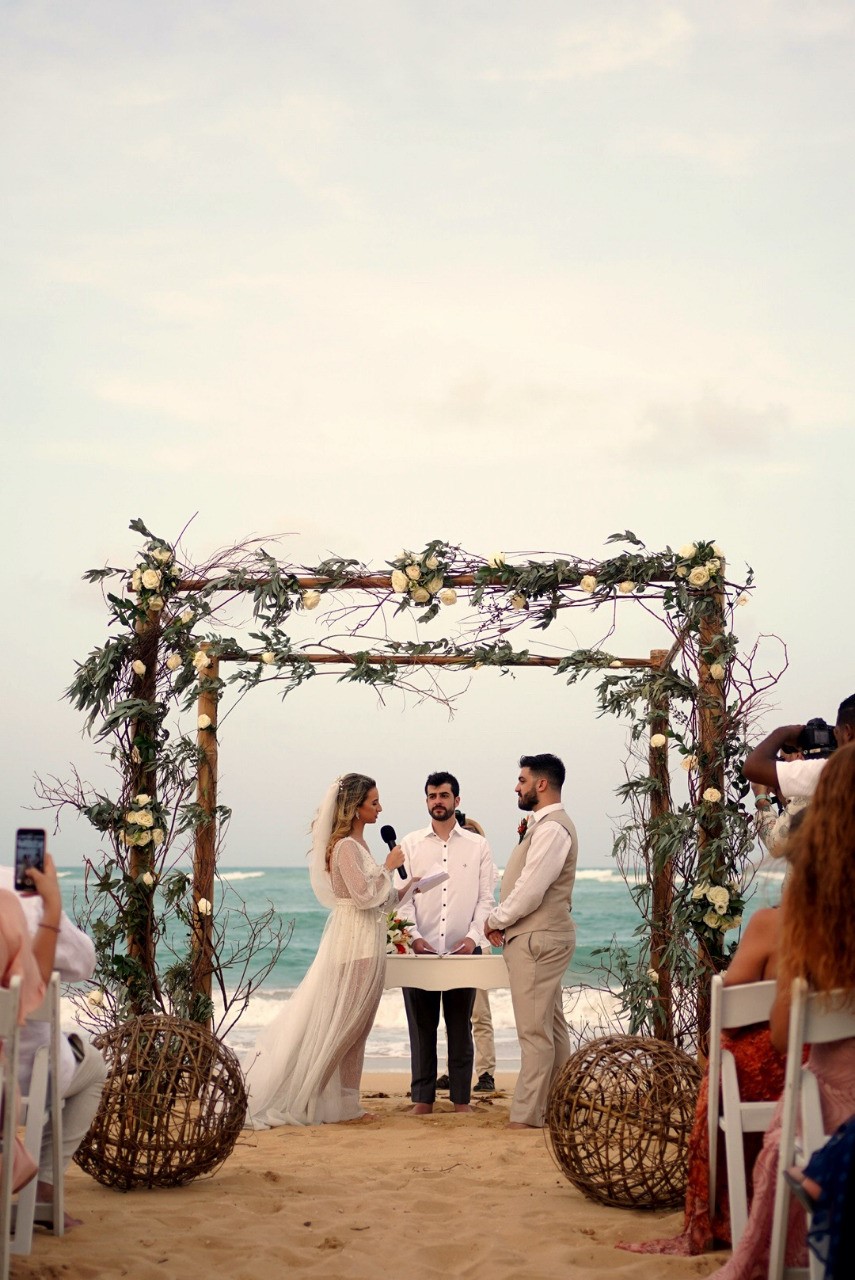 Amanda e André Wedding - Photo: PH Cavalheiro
Julie e Ryan Wedding - Photo: Leo Soares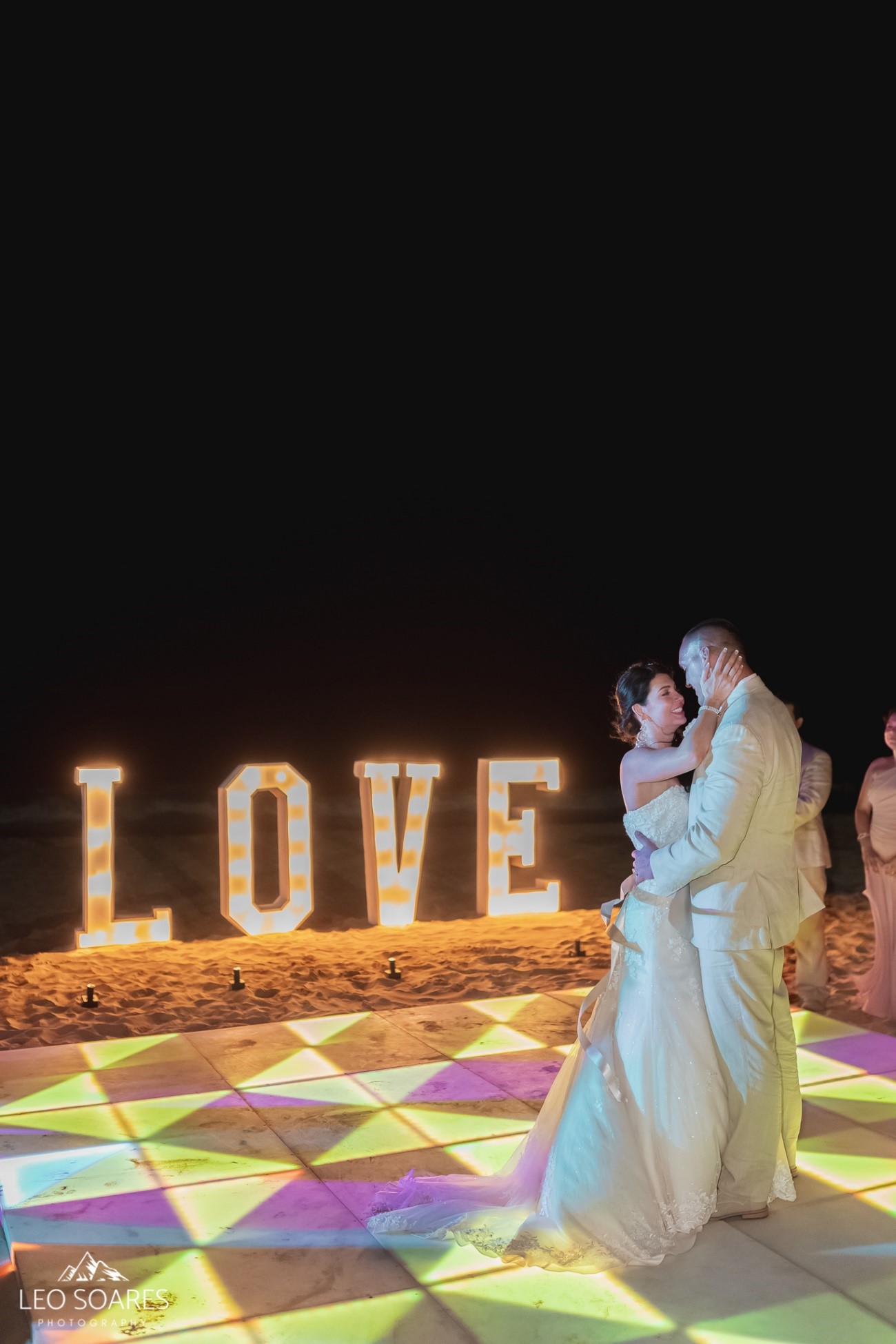 Julie e Ryan Wedding - Photo: Leo Soares
In addition, all guests over 18 have access to the entire structure of Breathless Punta Cana, an adults-only resort, which is right next to Now Onyx.
You can walk or hitch a ride in one of the carts offered by the hotel that makes this transport. When we talk about the whole structure, we mean everything: swimming pools, restaurants, bars, clubs, and casino – it is like having two hotels in one!
Many coupes also extend the trip after the guests return, and Breathless can be an option for the honeymoon.
Photos of Breathless Punta Cana Hotel:
Text written by Victoria Viera - Event Analyst